Authentic designs and soulful collections connecting experience while increasing support of conservation efforts for wild steelhead and tarpon. Experience the Highways and other collections...
US 101 Steelhead Highway
Backstory
Highway 101 looping the flanks of the Olympic Mountains, deviating a southern course of Washington, Oregon to Southern California. Highway 101 is The Steelhead Highway.
This ribbon of asphalt transverses over every steelhead bearing stream along the wild, crested Pacific. From the drenched rainforest rivers of the Olympic Peninsula, arching over the mother river Columbia, tracing along the rain fed coastal range of Oregon, through the grand redwoods and chaparrals gracing California to Baja. The streams beneath this coastal highway cloaks a life altering game fish with the hues of the Pacific gracing their flanks.
The Steelhead Highway is a frame of mind and doesn't really tell us or show us where. It brings promise of opportunities to lose ourselves in the streams she spans, always seducing us to explore just a bit further and torturing us with a hunch or delight in something new.
The Steelhead Highway is a shared conviction for wild rivers and an ocean with advocacy for a better future for wild steelhead. It's an honest connection of who we are, where we want to be; celebrating a life of rivers, possibilities and steelhead distractions.
With any Steelhead Highway purchase 5% of profits will be donated to The Wild Steelhead Coalition supporting their important conservation work.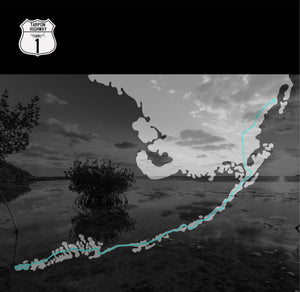 US 1 Tarpon Highway
Backstory
Highway 1, traversing a landscape painted with a pastel pallet of tropic breezes and puffy white clouds, Florida's Over Seas Highway is a 113-mile connection between mainland Florida and Key West. This road is more than a stretch of concrete. It is The Tarpon Highway.
The highway hopscotches the keys, providing endless scenic vistas and exits to experiences of a lifetime. Below its series of iconic bridges, through the channels, and across fish-filled flats, migrates a premier game fish. Scientists named it Megalops atlanticus. The common man calls it tarpon. Anglers honor it with the title the "Silver King."
Florida's legendary keys, flats and shoals are where modern day saltwater fly fishing cut its teeth. From Islamorada to Marathon to Marquesas, the king commands the passion of anglers who yearn to bow in the presence of its gill-rattling launch. Poling across these vast flats and dense mangroves, anglers can test their mettle against the strength, speed and smarts of permit, bonefish and snook.
The Tarpon Highway is clearly marked, but its an avenue to lose yourself. Immersed in the salty paradise, the real world and its distractions disappear into the sun-soaked horizon. Days begin with the sound of rolling tarpon under a moonlit sky and end with the hard-earned clank of beer bottles.
The elusive experience is a gift, but on that comes with a responsibility of protecting these majestic fish and the flats, reefs and seas in which they swim, so they can be enjoyed today and for a life time.
With any Tarpon Highway purchase a 5% of profits will be donated to the Bonefish & Tarpon Trust supporting their important conservation work.
Creative Services
Every authentic product and brand begins with a story affording an opportunity to fulfill a need. Mykiss Studios can support your project needs with creative ability in brand and product development, user experience, graphic design, or storyboarding your film project. Mykiss Studios brings breadth of experience, creative spark and a life long passion in all things angling with a conservation focus for the resource we all love.
Shoot over an email and let's discuss your project needs. Mykiss Studios can help take your aspirations to the next level, let's create something cool together.
Artwork: Rich Simms at Mykiss Studios
Concept & Design: Rich Simms
Philosophy: Every great brand starts with a story.
Photo Credits: Brian Bennett, Earl Harper, Rich Simms, Gray Struznik, Shane Anderson
Thank You: Brian Bennett, Earl Harper, Moldy Chum, Paul Moinester, Gray Struznik